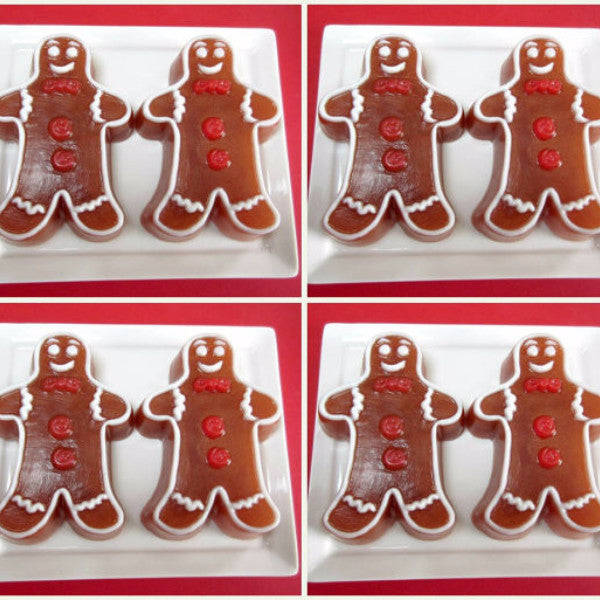 Gingerbread Man - Made to Order - Set of 8
---
Gingerbread Man Soap 

Set of 8 individual Gingerbread Men Soap.
C'mon little fellow, there's a place to hide in the gingerbread house of Hansel and Gretel. 
This fragrance called Hansel and Gretels House is simply amazing; wonderfully delicious notes of orange, lemon, and bergamot; ginger, nutmeg, honey, clove, vanilla bean and cocoa.

You better hurry and catch all of them if you can!

8 of these little guys fits snug as a bug in a rug - ready to ship for one flat rate!

Buy in bulk and simplify your decision ;+}. Save time and money. Reg price $6.25 individually, $6.00 each on gift set of 8

Weight: 3.5 ounces each. Total 28 oz. This listing is for 8 gingerbread man.
Please note - these are made to order.  If you have a hard deadline date - you can contact me at info@asliceofdelight.com to confirm date needed and ensure the production and delivery time on my end can be scheduled so your soaps arrive in plenty of time. If you do not have a hard date - production time from order receipt is 2-3 days. And another 3 days for flat rate shipping. This gives you an idea of the time frame needed for your order to be made and mailed out.
 ________________
Ingredients
Coconut oil, Palm oil, Safflower oil, Glycerin, Purified water, Sodium hydroxide, Sorbitol,  Sorbitan oleate, Oat protein, Titanium dioxide, Fragrance oil, and Colorant.
---
Share this Product
---
More from this collection